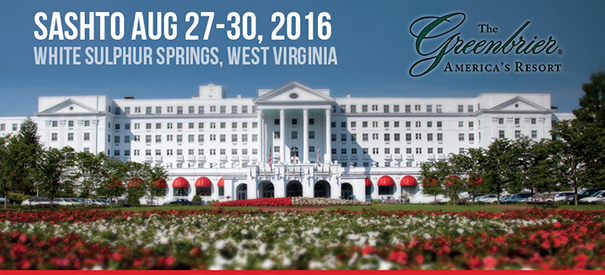 SASHTO 2016 Annual Meeting, August 27-30, 2016
SASHTO 2016 in West Virginia is an event you won't want to miss. Enthralling discussions of advancement in the world of transportation will occur at this idyllic resort. In between conference meetings and technical sessions, Delegates and their guests have the opportunity to enjoy all that The Greenbrier and the surrounding areas have to offer.
/// Overview
Learn new strategies to successful leadership in transportation.
Identify the latest industry trends and how to implement them.
Share ideas with other innovative transportation experts.
Exchange critical insights with your peers in 13 other departments of transportation.
/// HIGHLIGHTS
The conference will be hosted at The Greenbrier Resort: An award-winning luxury resort with impeccable service and outstanding indoor and outdoor amenities.
The golf tournament will be held at The Greenbrier Resort's Meadows Golf Course: Where golfers can test their skills while enjoying panoramic views of the mountains.
The opening reception will be held at Kate's Mountain Lodge, adjacent to The Greenbrier. This mountain top setting provides breathtaking views of the Allegheny Mountains where our guests can enjoy "A Taste of West Virginia" and experience our almost heaven hospitality.
The closing ceremony will be held in the resort's luxurious Colonial Hall Ballroom: Where Delegates and guests are invited to experience The Greenbrier's fine dining and local entertainment.