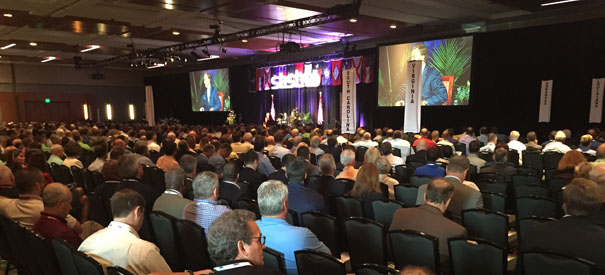 SASHTO 2015 Annual Meeting
NASHVILLE, TENNESSEE August 1-4, 2105
/// Overview
More than 1,200 representatives from all 13 member states and Puerto Rico, as well as local and federal transportation agencies and private-sector companies gathered to exchange ideas and best practices.
Conference attendees were offered a range of topics covering many different facets in today's transportation field, including:

Accelerated Bridge Construction
Statewide Freight Planning
Unleashing the Power of Innovation
Pavement Preservation
Corridor Planning & Management Innovations
Permit Automation and Overweight & Over Dimensional Vehicles
Strategic Highway Research Program 2
Transportation Planning for the Future
Autonomous & Connected Vehicles: A Great Opportunity for Transportation Agencies
State DOT's and University Partnerships
Railroad Solutions
Planning Data/GIS Innovations
Achieve Better, Faster and Cheaper Without Change
/// HIGHLIGHTS
The annual meeting, presided over this year by Tennessee DOT Commissioner John Schroer, was themed "Transportation: Driving to be The Best."
The opening reception for the SASHTO 2015 Annual Meeting was held at the Country Music Hall of Fame and Museum, with its breathtaking views overlooking the Nashville skyline.
The closing reception was held at the historic Ryman Auditorium. Take a backstage tour while enjoying food, beverages and of course music at the mother church.
The golf tournament was held at The Hermitage. The General's Retreat course received the coveted Four Star Rating from Golf Digest and has been home of the LPGA Sara Lee Classic since 1988.
The conference was held at the spectacular Music City Center. All the hotels are within one block so delegates can walk everywhere and enjoy the city first hand.
Delegates:
Discovered successful strategies used by other transportation departments in the southern region.
Discussed the latest transportation trends that affect your organization and areas of responsibility.
Spent the days networking with some of the most creative minds in transportation.
Exchanged ideas, insights and practical strategies with colleagues from other transportation departments.
Identified the major skills and competencies most critical for your daily success as a transportation leader.
Learned the latest funding initiatives.